Novation wanted to open up its Circuit sequencer, synth and sampler to users as soon as possible, and last year its team worked to produce Circuit Editor together with developer collective Isotonik Studios. Circuit Editor highlights the impact of editing, and demonstrates how seriously the community takes the subject.
Novation follows this with a powerful series of Novation editors, the first of which is Circuit Macro Editor. Never before has it been so easy for Circuit users to edit their macros, while browsing through patches, and seeing the currently loaded patch and macro knob assignments.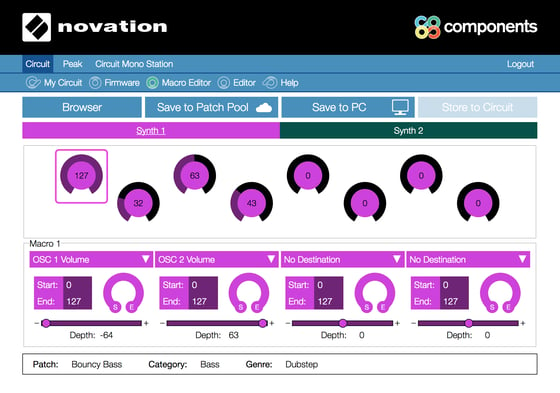 Circuit Macro Editor lets users edit macro assignments, save their edits to the Cloud, and push them out to their Circuit. Additionally, a lot of users wanted to mix and match patches from several packs. The Patch Pool feature makes it a lot easier to do this, allowing patches to be saved to a pool that can be imported as single sounds into any pack.
The Circuit sequencer, synth and sampler integrates with users' favourite hardware, and allows them to develop and perform their productions – switching between drums, basslines and chords. Discover more about Circuit: